Playing Poker with Skill and Integrity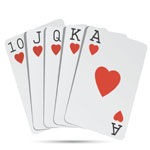 Creating a player friendly atmosphere at the poker table only requires that you know how to play properly.
The popularity of Texas Hold 'Em has sent poker enthusiasts running to online poker websites hoping to not only win cash, but their share of the fame that is involved with the skilled game. The truth is, people who like to play poker - even before the World Series of Poker began being televised - like to play poker with other people who know how to play fairly.
Certainly there is nothing wrong with bluffing your way to a pot takedown, or hanging around a little longer to see if you land that flush on the turn. Everyone does it, and it is part of the game. However, even Kenny Rogers knows that you have to know when to hold them, and know when to fold them. Hanging around a tournament table game with a two and seven, off suit, is painstakingly unfair and it takes away from the game's integrity.
Article continued on: Poker Cash Bonus
"Playing Poker with Skill and Integrity" User Comments
No comments posted yet.